Haseem Rahman/James Toney Recap
by Pat King (Boxing)
Posted on March 19, 2006, 11:08 AM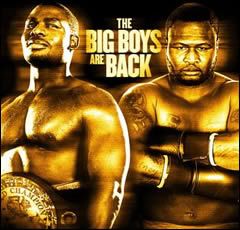 By Pat King,

Last night, two of the heavyweight division's top names squared off in front of a crowd of 8,427 at Atlantic City's Boardwalk Hall in an attempt to revitalize a ravaged division, void of any true marquee stars. James "Lights Out" Toney (69-4-3) challenged for Haseem Rahmans (41-5-2) WBC Heavyweight championship of the world in a fight which left promotors and fans equally underwhelmed. In the end, Haseem Rahman was able to hold onto his belt that was handed to him after Vitali Klitschko retired. Ending in a draw that was bizarre even for heavyweight standards, fans were left scratching their heads and holding their stomachs at the train-wreck that the end of this fight brought on.

Judge John Stewart had Rahman ahead 117-111, while judges Nobuaki Uratani and Tom Kaczmarek both had the bout at an even 114-114. Technically speaking, Haseem Rahman had the lions share of the judges votes, thanks to John Stewart having him ahead. However, boxings rules specifically state that a majority decision must be made, in this case Rahman would have had to be ahead on two of the three judges scorecards. But, none of that really matters as this fight accomplished nothing but further complicating Don King's "dream" of once again unifying the title. Post fight, Rahman stated "Even though it was a draw, it doesn't matter...I'm still the champ and I'm the one who can go on from here." Funny, as he never beat a champion for the belt, and has yet to score a successful title defense. Oy vey. Welcome to the heavyweight division. Population: 4 champions, James Toney and Danny Williams.

Showing up to the fight at a career-high 237 pounds and looking as flabby as a stack of flap-jacks, the 37 year old James Toney kept busy in the early rounds of the fight, taking the action to Rahman. In the third, Toney came alive landing clean shots to Rahman's temple. Never one to back down, Rahman traded back with the smaller challenger but was never able to truly use his natural height and reach advantage to his favor. Things picked up for him a bit in the 5th round when he landed his own share of shots to Toneys head.

By this point Toney seemed to become a bit tired, leaning on the ropes and keeping a slower pace. The restless crowd, starved of exciting heavyweight action grew tired and began booing the two combatants in the ring. By the 8th round, Toney was able to take in his second wind, getting the better of Rahman. In true James Toney fashion, he easily won the battle on the inside, landing the cleaner shots and eventually cutting Rahman over his left eye and mouth in the 9th round.

As the closing rounds came James Toney's blubbery exterior proved to be too much weight for him to carry around. The challenger grew tired as Rahman was able to utilizize his right jab and stack up much-needed points. Going into the final round, Rahman was down on two of the judges score-cards and his strong finish in the 12th was enough to garner him a draw.

Never at a loss for words, Toney stated: "I thought I won it by two or three points. James Toney is still the best fighter in the world." Rahman, however, explained why he thought Toney wasn't able to win this fight..."There is no secret about fighting James Toney, it's a matter of how much he eats. If he comes in around 220, it's a much more difficult fight."

Regardless of all the talk, the outcome of this fight leaves the heavyweight division more confused than it was yesterday. And that's saying a lot. Now Rahman has a mandatory defense against Oleg Maskaev, a man who knocked Rahman out of the ring in November of 1999. Current IBF Champion Chris Byrd is set to square off against Vitali's younger brother, Wladamir Klitschko for his belt later on this year. Lamon Brewster (WBO Champion) and Nikolay Valuev (WBA) are still waiting in the wings to see who they'll stack up against next.

And theres no question that James Toney will be back. The 64,000 dollar question is which James Toney will be back? The in-shape James Toney who is near-impossible to hit? Or the 237 pounder who clumsily missed shots and looked terribly out of shape? One thing is for sure. With 2000 tickets unsold the day before the fight, this draw decision was the last thing the heavyweight division needed. Something needs to happen very soon. At the very least, the belts need to be unified. Last night proved that even that is a long, long way away. In the meantime, all we can do is wait and remember the glory days of Ali, Frazier, and Foreman. Even the Holyfield/Bowe era, or the "Iron" Mike Tyson era makes this current crop of pugilists laughable. So laughable that the fight wasn't even on PPV. Yes, they gave away a championship fight away on HBO. Ouch.

How much longer are these 4 champions going to face "mandatory" challengers? They need to be facing each other, and that's the simple truth. Attendance is going to continue to drop, and fewer and fewer people are going to be buying the fights. And it's not only that there are 4 champions (although that doesn't help much.) The fighters just aren't of the same calibur of the old days. Even if one of the current champions were to finally unify the title, how would they stack up against the former greats? Not very well.

So as Haseem Rahman and James Toney left it all in the ring, they help exposed to an even greater degree just how dilapidated the current heavyweight division is. And sadly for fight fans there seems to be no end in sight. The good news is that there is still great boxing happening in lower weight divisions. The bad news is that the heavyweight division is supposed to be the most prestigious in the world. My, how the times have changed.