NHL Playoff Preview" Round 3
by Mike Sawaryn (NHL)
Posted on May 20, 2006, 4:55 PM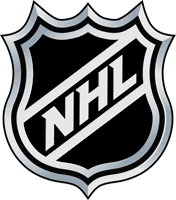 NHL Group Playoff Preview: Round 2



Sawaryn: Hello hello and welcome once again to your NHL playoff prediction fix! Yes, we are like crack. Is anyone still not loving this yearís playoffs? If you arenít, punch yourself in the face. This has been damn good stuff. Not to mention the success of a certain Canadian team getting to the conference finals I must say. If you want a party, come to the Blue Mile here in Edmonton. Weíve got fun stuff like shopping cart crowd surfing, girls showing off their goodies, and people climbing traffic lights and stuff. Anyways, I suppose thereís other teams too, right? Here with their predictions of the two series of this round are once again Bob Davis and Matt Ederer!

Davis: Iíll admit, Mike, that Iím a little leery about even taking part in this round of predictions. The first 2 rounds have left me quite shell-shocked. However, Iím willing to put my 4-8 record on the line, in the hopes that I can do 2 teams a favour and stamp their ticket into the Finals. Let me put it this way Ė if Edererís picks and my picks are exact opposites, you know that Mattís teams are going to win their respective conferences.

Ederer: Woo. What better way to spend the May long weekend than in a drunken stupor watching some excellent playoff hockey. I can only imagine (while salivating profusely) how the environment is in Edmonton, eh Sawaryn?

Sawaryn: Man, you have no idea. Itís a party 24/7. Davis brought it up already, but letís check how the three of us are doing, shall we? Yes, we shall. Mr. Davis went 1-3 in the second round to bring his record to 4-8 for the playoffs. Mr. Ederer went 2-2 to bring himself up to 7-5. That score actually brings him into a tie for first with me, who went 1-3 to go to 7-5 as well. Of course itís all because I refuse to pick the Oilers to avoid jinxing them. But thatís ok! Letís check what we all got for this round, shall we?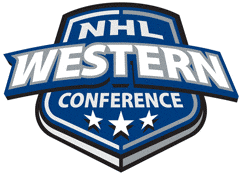 WESTERN CONFERENCE:


#6 Anaheim vs. #8 Edmonton



Sawaryn: Do I even need to do a writeup since everyone whoís read will know my predictions? Why, I should do a write up since the OILERS ARE IN THE CONFERENCE FINALS! I still donít believe it. Iíll admit, after the first two games against the Sharks, I felt it wasnít going to be much of a chance for the Oil. But they found some holes in Toskala and got the job done. And now my city is going ballistic, itís wonderful. Anaheim meanwhile continues to look strong as they made the Avs look like the Avs of the regular season, and not the first round team that beat the Stars. Itís got to be nice to have Giguere as a backup plan in the playoffs. This series has a striking resemblance to the Sharks series actually. Oilers swept the Ducks in the regular season, we were 3-1 against San Jose. Both the Sharks and Ducks were out of playoff contention for a good portion of the year only to turn it up with amazing runs near the end of the season. Both teams were coming off very strong series going up against the Oilers. Both are very young teams with a couple strong veterans to hold down the fort as well. And both have first time playoff goalies who come in red hot with experienced, successful veterans backing them up. I honestly think the Oilers can and will win again. I think the Ducks are a very good team, but I still think the Sharks are better. Hopefully we can follow the same gameplan and outwork them to take this series and send Edmonton into even more of a frenzy. The key I think though is to get going very early on if youíre the Oilers. Anaheim has had a LONG break while Edmonton gets a single day off after finishing off San Jose. Thereís bound to be some rust after a long layoff, so get a couple quick goals and weather the storm for game 1. Earning the split in Anaheim right off the bat will be perfect. Coming back from 2-0 against the Sharks was hard enough and I donít like the chances of us pulling off another comeback like that. Should be a very close, low scoring series I think. Bryzgalov and Roloson will be fantastic to watch. But of course, to not break any routines from the first two rounds, I have to say Ducks in 6.

Davis: My esteemed colleague, Matt Ederer, reminded me that I had reacted with some joviality when he said that Anaheim was a legitimate threat to win the Stanley Cup. In fact, Iíll state my exact response, posted on April 10th:


1. Anaheim hasn't even clinched a playoff spot, and there is definitely a possibility that they might miss the playoffs, and you have them as Cup contenders???

2. Detroit and Calgary would destroy Anaheim; Dallas would have a bit of a struggle, but Anaheim still wouldn't stand a chance.

3. Nashville will likely bow out to Anaheim in round 1 (assuming the playoff matchups stay as they are now), but even that isn't anywhere close to a sure thing.

I can't see Anaheim being anything more than a second-round roadblock for the eventual West champion. In fact, I think that's a little optimistic.


Obviously, Anaheim did make the playoffs, and they did not go up against Nashville. However, a strange thing happened to Anaheim in the series against Calgary Ė Calgary did destroy Anaheim, dominating them by a 5-2 margin in game 3 in their own rink. Then, after dropping game 4 in overtime, Calgary knocked J.S. Giguere out of game 5 with 3 goals in the first period of a 3-2 victory. Anaheim replaced Giguere with Ilya Bryzgalov, a goalie who hasnít played a lot this season. At this point, allow me to copy and paste the Cam Ward story.

Meanwhile, playoff fever has swept through Edmonton. The Oilers took out the top seeded Red Wings, to the surprise of a lot of people. Edmonton then dropped 2 in San Jose before responding in Oil Country to knock out the Sharks in 6 games. Roloson has been playing very well; Peca, Samsonov and Pronger have been proving why their acquisitions were a good idea, and the long-time Oilers are giving Mike something to cheer about.

In the first 2 rounds, the Oilers played a pair of teams that both played the same style of hockey. This time around, they go against a team who is a polar opposite of themselves: Edmonton is a great team up front with a decent goalie in net; while Anaheim is a decent team with a goalie who is playing great. I still donít see Anaheim as a legitimate threat to take it all... but I donít want to risk jinxing the Edmonton Oilers. Mikeís a scary dude Ė heíd hurt me if I caused the Oilers to lose.

PREDICTION: Anaheim in 7.

Ederer: This one comes down to momentum. The Oilers have it, the Ducks may have lost some. Edmonton should come in hot after dispatching the Sharks in the Rexall Centre, to make it to the western final in six games. Meanwhile, Anaheim have been doing nothing for a week, after soundly beating the Avalanche in four. I expect Edmonton to win game one, and maybe even to carry that momentum into game two. For the record, in 2003 Anaheim had a similar amount of time off between their sweep of the Minnesota Wild and their series against the New Jersey Devils. The Devils won the first two games, the series, and the Stanley Cup.

I truly believe that having the home ice advantage in game 6 is the major reason as to why the Edmonton Oilers, and specifically Dwayne Roloson and Michael Peca, stepped up their games to eliminate the Sharks. The same could be said for the series vs the Red Wings. To me, what this series comes down to is if Edmonton can get a 3-2 lead on Anaheim before game six. Should Edmonton survive Anaheimís intense, physically pounding style for the three wins that they need, I donít think that Anaheim will be able to take the sixth game. And the way I see it, Edmonton will win game one, without much question. So theyíve got four games after that to split with Anaheim, with each team getting two games at more. If they can pull off a split (and if you think about it, all they really have to do is defend home ice), theyíll have the Oiler faithful exploding for an elimination game that could send Edmonton to the conference finals.

Like I said before, Anaheim plays a game that wears down opponents. They are big, physical, bruising, and they will, in all likelihood, be able to take a few from Edmonton simply on the basis of the Oilersí fatigue. However, I donít feel that the Oilers are banged up enough to simply roll over and let the Ducks rain all over the parade on Whyte avenue. Iíll admit that the Ducks are very good, but I feel theyíve got some weaknesses. Theyíre very young, for one. Also, theyíve already exceeded all expectations for this year, which might weigh on the mind of coaches and players (if they do lose, no big deal, theyíve already gone so far). Another big one is that, in my opinion, Ilja Bryzgalov is a fake superstar Ė his numbers are absolutely mind-blowing, but heís had the advantage of playing an Colorado Avalanche team whose offensive stars were predominantly injured, and a Calgary Flames team that generally scores about as much as an orthodox nun. Plus, Chris Pronger has shut down what are, for my money, two of the top 1-2 punches in the league, in Detroitís Zetterberg/Datsyuk combination, and San Joseís Cheechoo/Thornton combination. Heíll have a field day with Teemu Selanne and Andy McDonald. Not to mention that the Oilers have an entire nation on their side.

But maybe Edmonton drops game one, and screws up everything Iíve just said. Still, Iím going with the Oil.

Pick: Edmonton in 6.


EASTERN CONFERENCE:


#2 Carolina vs. #4 Buffalo



Sawaryn: Well, this is going to be a heck of a series to try to predict. Both teams come in pulling off what I think is a bit of an upset in the last round, especially the Sabres. I would have picked either Carolina or Jersey to beat the Sens, but not Buffalo. Theyíve come through in the playoffs though and have gotten hot at the ring time. For some reason, Iím still not as sold on the Canes as I was during the regular season. When the season ended, I had them pegged to win the East. But watching them against Montreal, even though they ended up pulling it off in the end, they didnít look like a cup contender. Granted I didnít see much of the Jersey series, and beating them in 5 is SUPER impressive, but I still have some doubts. Heck, even as I type this I keep flipping back and forth on who to pick. And although I donít want to go back to the Oilers/Sharks series (ok, maybe I do actually) that series did prove one thing: young goaltenders who are on a roll CAN be broken. Thatís one edge Iím giving Buffalo here, Miller has been very good plus heís been around for a short while (longer than Cam Ward). Granted they could always go back to Gerber, but who knows what youíll get now after that first round.
Ok, now it sounds like Iím stalling since I donít know who to pick, and thatís kinda true. Either team winning this wonít surprise me at all. But if the Sabres can beat the Sens, they can beat the Canes. Give me Buffalo in 7, but again, I wouldnít put money on it.

Davis: If you think back to the final game of the regular season, these 2 teams met in a game that didnít mean anything at all to Buffalo. For Carolina, it meant the opportunity to take first place overall from Ottawa, and give them what could have been an easier path to this point. A win by Carolina would have solidified the number 1 seed in the playoffs, meaning a date with the Tampa Bay Lightning, instead of facing a team that ĎCanes GM Jim Rutherford described as the ďbest team in this yearís playoffsĒ.

The Sabres came out in that game, dominating the Hurricanes in nearly every aspect of the game, skating away with a 4-0 victory in a game that Buffalo could have mailed in their effort and still finished 4th overall. In hindsight, that game was the most important game the Sabres have played so far this season, for 3 crucial reasons. First, if Buffalo plays that well in a game that means nothing, imagine how well they will play when the season is on the line. Second, it planted a seed of doubt in the head of a lot of Carolina players, including goaltender Martin Gerber, and Buffalo is going to have the watering bucket ready to grow that seed.

The final reason that the game was very important is because of that seed. It shook Gerber up to the point where he allowed 9 goals in just 4 periods of the first round, forcing Cam Ward to take over. Ward has shined through the last 9 games, picking up 8 wins and propelling Carolina past Montreal and New Jersey to get here. That 4-0 victory will now force the Sabres to face Ward in the East Finals; something that the Sabres have yet to do through the entire season.

If the Sabres play as well as they did in that final game of the season, Ward will have to literally stand on his head for 4 games, only to have his team eliminated. Carolina will need to find an answer, one that they didnít have in that game, in order to move on. While that answer may be Ward, itís not the only answer.

PREDICTION: Buffalo in 6.

Ederer: Itís hard to say what this series is going to come down to. It may come down to a battle of quality vs quantity. The Carolina Hurricanes have about two lines of great players, highlighted by 100 point scorer and unofficial breakout player of the year, Eric Staal. The Buffalo Sabres have an entire team of very good players highlighted by their stars Daniel Briere and Chris Drury. Carolina has got proven names filling their lines, like Erik Cole (injured) Mark Recchi, Doug Weight, and Cory Stillman. Players who have been counted on to play at a high level for teams before, and who have delivered when it counts. Buffalo has one of the most prolifically underrated and unheralded line-ups in recent memory, with players like Tim Connolly (injured), Henrik Tallinder and JP Dumont (and really, I could name the whole 25 man roster) patrolling the ice for the Sabres. Players who have yet to play on this level in their careers, but who are young and hungry for success.

Another factor is the goaltending. Carolina love to crash the net and rattle the goaltender, throwing him off his game. I figure that if they can get Martin Brodeur off his game, Ryan Miller stands no chance. Conversely, Carolinaís Cam Ward has never had to face a team where any given player can score at any given time and end a game or a series (seriously, somebody please tell me who the hell Jason Pominville is). Montreal has great depth, but not this kind of depth. And everybody knows the New Jersey Devils have the EGG line, but you couldnít name me a reliable scorer outside of their first two lines. Both goalies are rookies, and both have huge responsibilities. I do not think that itís out of line to say that the hotter goalie will win the series for his team.

I also do not think itís out of line to say that this series goes the distance. Both teams play at a feverish pace, both teams rely on speed to create chances and to break down defences, both teams are solid on both ends of the ice, and both teams are entertaining as all hell to watch. Not to mention that both teams are never, ever out of a game (Carolina gave up the lead to Jersey with 20 seconds left in game 2, and won in overtime. Buffalo was down 5-4 with a minute left in game 1 vs Ottawa, and won in overtime 7-6). This oneís gonna be excellent, no doubt about it.

Iíll just assume that the series does go to seven games. If this were to happen, Carolina would be at home. Carolinaís home record during these playoffs is 4-2. Buffaloís road record? 4-2.

This series is ridiculously hard to call. Something that deserves recognition is that Carolinaís home record is 4-0, if you eliminate the two first losses to Montreal, which were games that Martin Gerber (who no longer plays) was the goaltender for the better part of. Iíll fully acknowledge that Iím reaching here, but it is valid.

So off of the basis of Carolina being a deceptively strong home team, Iíll predict that the Hurricanes Raleigh the troops (see what I did there?) to win game 7 in their barn, in what will be a classic series that realistically could go either way. This is a toughie though.

Pick: Carolina in 7

IN CLOSING:

Davis: Both Anaheim and Carolina have a major problem in this round. They are going up against 2 teams that can score goals in bunches, have explosive talent to break a game wide open at any point; and they both have a very tedious, at best, goaltending situation. If either Bryzgalov or Ward have a bad game early in their series, who do the coaches turn to? Iím rooting for Mikeís team to take it all the way, and Iíll join Mike on the Blue Mile when the Cup is being lifted... as long as I can bunk with him for a couple of days.

Sawaryn: Word, thereís room for plenty more here on the Blue Mile! Itís been very hard to predict these playoffs so far, and itís not getting any easier anytime soon. Itís to the point where I wish there were 3 more rounds just to keep these games going for a while! Of course watching hockey on days where itís 30 above just seems weird still. Anyways, thanks once again for reading and be sure to check back in a couple weeks when the Oilers are set to go for the cup in the finals! Weíll be back, you know that. And Iíll just leave you with the funniest picture Iíve seen from the Blue Mile yet!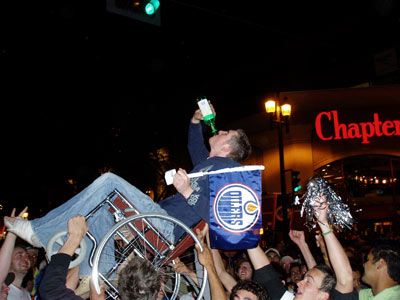 Mike Sawaryn (mikesawaryn@hotmail.com)
Bob Davis (bestlurker@gmail.com)
Matt Ederer (mattederer@hotmail.com)